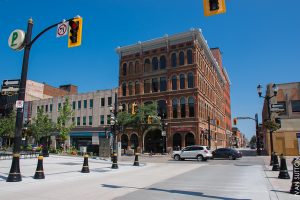 Hamilton is a great city and presents many opportunities for those looking to move here. Being about an hour from Toronto and about 45 minutes to the Toronto airport, Hamilton is a relatively inexpensive option for those looking to move outside the city.
Detached homes sold in Toronto were the most expensive, with an average price of $1.35 million. The average detached home price in the rest of the GTA was $907,347. (CBC News)
The average listing price of a detached house in Hamilton is $755,684. (Zoocasa.com)
And there is so much to see here. In fact, a recent article just scrapes the surface in things that make Hamilton a great place to visit. But why visit when you can enjoy this great city and call it your own. I have attached the article below with permission. To view the original article, you can view it here: MiAgency.ca.
Why You Should Visit Hamilton This Summer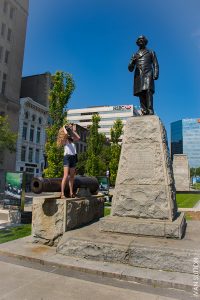 Depending on where you are or whom you speak with, if you ask, "What is Hamilton Ontario like?" You are likely to get an assortment of replies. A 2019 population estimate of is at 544,984 people. The city has seen consistent business growth with over 1,600 new businesses added during the last seven years. Yes, Hamilton is a very exciting place to be in 2019. View More Stats.
When I first arrived here, I learned quickly that there is a perception out there among some that Hamilton is stuck. Stuck with a "steel town" image trying to find itself. One stranger replied when I asked what is best about Hamilton, "It's 50 minutes from Toronto."
So I went to discover Hamilton for myself. It took all of an hour to realize that this is an amazing city with lots to discover and experience. It is also an emerging modern city with a trendy and young vibe starting to express itself in the downtown core.
Ok, so here are the 10 top reasons that the MiAgency Marketing team has distilled for why you should visit Hamilton Ontario this summer. And if you live here, you should seriously explore the sights around you.
1. Royal Botanical Gardens:
There are four formal gardens contained within 1,100 hectares of nature reserve on the border of Hamilton and Burlington. Also, two restaurants and a teahouse on site so you can spend the day exploring. Check their website for special holiday brunches and events. This is a terrific place for a family day together or in our opinion, a romantic in-town escape for an afternoon or evening.
2. The Better Business Expo:
One of the first things we attended as exhibitors when we moved to Hamilton was the Better Business Expo. It was held marketing consultingat Carmen's Banquet Centre on Stone Church Road. The folks at the BBE hold these trade show events in different cities as well as Hamilton. This was by far the most rewarding trade show experience that we have invested in. Each year we attend reminds us that Hamilton is for business.
3. Waterfalls:
They say that Hamilton is home to more than 100 waterfalls and all within minutes of downtown. These are the low hanging fruit for visitors because they are easy to find, most are free to visit and park. And they offer great opportunities for families to relax for a day or an hour. They also provide wonderful backdrops for product photography or business info-graphics. You just have to get there before the busy times.
4. Photographers Paradise:
The city has a beautiful mix of old and new architecture. Beautiful office buildings, churches, the armory, and back alleys. Take your camera and explore well-known streets like Barton, Hess and Loche. These all add to the opportunities for photographers to capture unique images. If you are a photographer and looking to plan a photo-walk group event, set it for downtown Hamilton. You won't regret it.
5. Waterfront:
Evolving as it should, Hamilton's waterfront is simply terrific in our opinions. It feels like we are surrounded by water here because there are many different waterfront parks and trails: Bayfront Park, the Marina area and Williams Café, Lakeland Centre, Beach Boulevard and the Lift Bridge, Hamilton Beach, Pier 4, and Lookout Point heading toward the Botanical Gardens.
6. Vegan Food:
For those that have or are shifting to a vegan lifestyle and for those curious about vegan food, Hamilton has some surprises for you. My first discovery was a few years ago when I went to Rawlicious for the first time. I didn't fully understand that everything was uncooked. Watching them prepare our meal the seemed to take special care. We were pleasantly surprised at how amazing it was. Since then, we have discovered many additional restaurants and dessert places with vast vegan menus. Talking desserts, there is tremendous buzz around Democracy on Loche Street for their vegan desserts.
7. Art Gallery:
I am inserting here the note from BlogTO on the Hamilton Art Gallery. I am also linking to their page because it lists other art galleries in Hamilton that also deserve attention. "Hamilton's primary public art gallery (open since 1914) might fly under the radar compared to institutions in Toronto, but this is a serious art centre with impressive holdings and consistently exciting programming. The recent Cezanne still life exhibition is but one example of the marquee shows featured here. The upcoming Robert Burley exhibit also exemplifies the quality of work displayed here."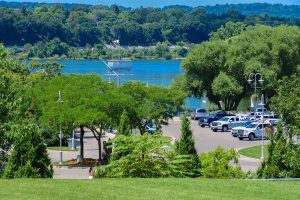 8. Vegetarian Food Fair:
The Vegetarian Food fair in Hamilton deserves mention because it has been an annual event for 22 years. Each year it draws about a thousand people over the four hours that it operates. Attendees have said that the food is excellent and inexpensive, and the event is a must attend. This event is presented by the Hamilton Mountain Seventh day Adventist Church. Mark August 18th, 2019 on your road trip schedule.
9. Dundurn Castle:
The beautiful grounds and trails are the least of the attraction to this castle.
Dundurn Castle is located on the hill overlooking Lake Ontario. This site used to be a British military encampment built in 1813. Now it is a sprawling Italian-style villa that has 40 rooms. Guided tours are available. Pack a lunch, take the tour and picnic on the grounds. And parking is free.
10. HMCS Haida:
A short walk from Pier 4 sits a Tribal class destroyer. This battleship served in the Second World War, the Korean Conflict and the Cold War. Walk through the captain's quarters, the mess hall, the bridge and the upper decks. It gives a fascinating exploration through history. Your kids will imagine themselves experiencing life aboard a warship.